Alumni Page
Welcome to the Kappa Kappa Kappa Alumni page. Here you will find information about alumni and the house itself.
Click here for the Tri-Kap Marching song.
Chat with alumni or undergrads on LinkedIn or Facebook.
Reunion Information
June Dartmouth Class Reunions:
We were proud to host receptions and tours for Tri-Kap alumni at the June C&R Reunion events.

Class of 1967 50 Year Reunion and Tour:
Friday, June 9 from 3:30 pm - 5 pm
Classes of 1976, 1977, 1978, 1987, 1992, 2006, 2007, 2008, 2012
Saturday, June 17 from 1 pm - 3 pm.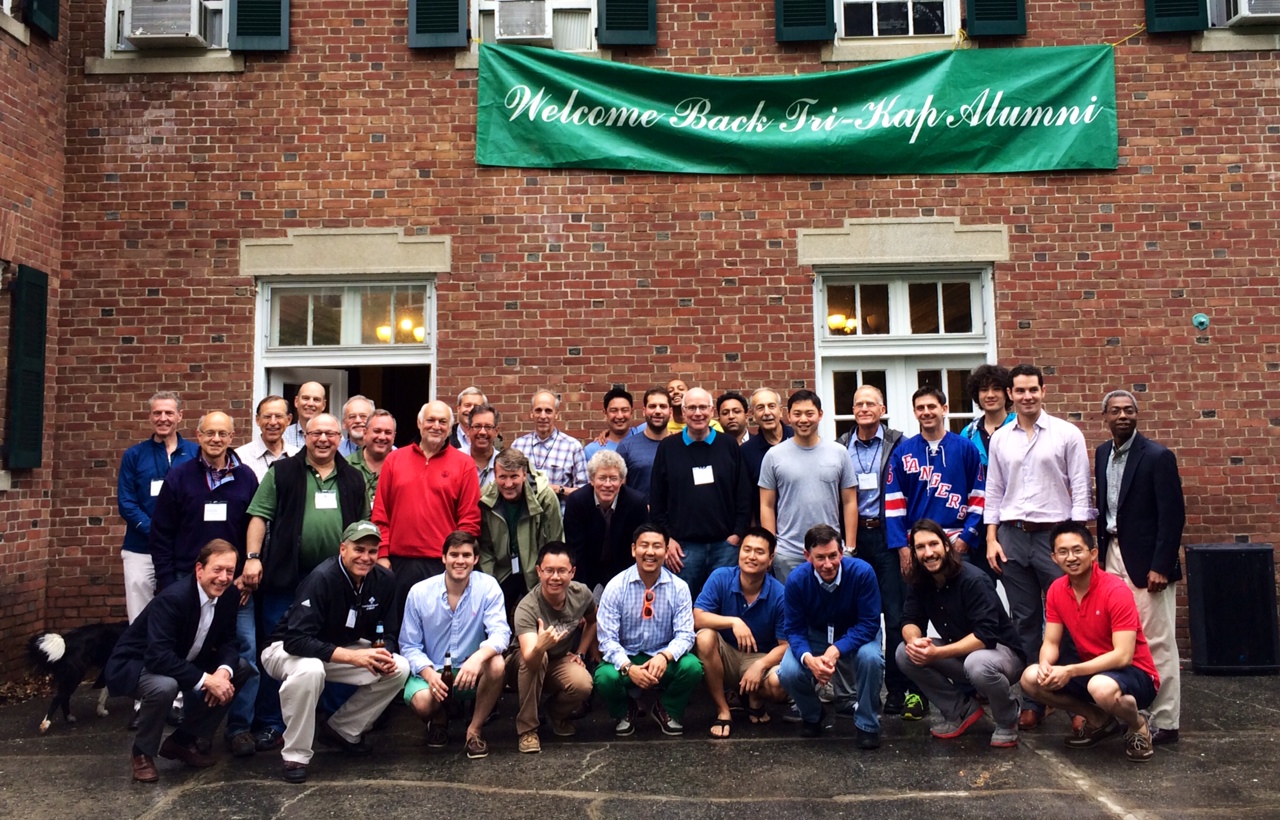 Regional Reunions
To find out more information about our upcoming Tri-Kap Regional Reunions:
If you are interested in helping out with or participating in any of these upcoming events, please contact the organizers.

Past Reunions:
See the Tri-Kap blog for photos from these events.
Atlanta

April 21, 2013, Druid Hills Golf Club, Atlanta
April 22, 2012, Intercontinental Hotel, Buckhead

Boston

September 20, 2012, Cambridge Brewing Company, Cambridge

Chicago

December 11 at 6:30pm, Sullivan's Steakhouse, 415 N Dearborn St.

NYC

Thursday, November 21 at 7pm at Hurley's Saloon at 232 West 48th Street
May 19, 2013 at Zero Otto Nove.
February 13, 2013 at Dewey's Flatiron.
March 22, 2012 at Hurley's Saloon in Midtown.

Los Angeles

San Francisco
Reconstruction Information
Please see
the Tri-Kap Capital Campaign
for all information regarding the campaign and reconstruction.
Board of Directors
Chairman

Vice-Chairman

Michael Brasher '10Fund Raising chairman)



N/A

Secretary

Greg Smith '85

Treasurer

Terry Lowd '66


Alumni Relations Chairman

Matt Brown '05

Other Board Members:

Roger Ulrich '77 (Faculty Advisor)
Marcel Wollf '12
Matt Graves '14
William Bollenbach '15
Brett Szalapsk '15
Ted Poatsy'17 (Past President)